Client: Thomas R. Hicks Construction
Home Improvement Brand Identity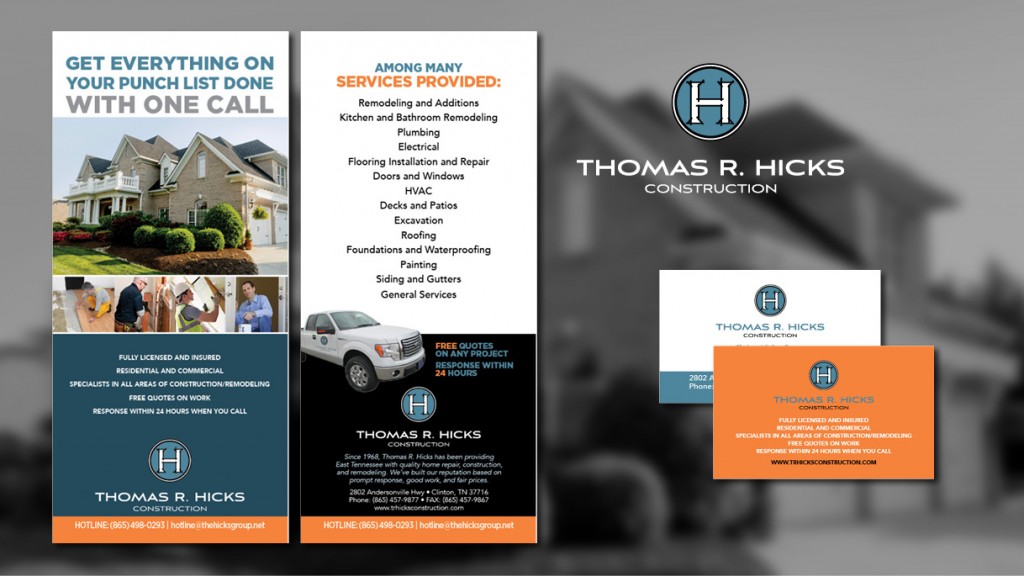 When the owners of Thomas R. Hicks Construction approached Colloredo & Associates, a Knoxville and East Tennessee Advertising Agency, they were interested in reviving their punch list services. After careful consideration, examining their current marketing assets and researching the local market, opportunity was discovered. Few companies articulated this specialty and few were professionally marketing home improvement services.
Colloredo & Associates quickly developed a new logo design and accompanied it with new brochures and business cards. These were designed to promote the business to real estate agents, title companies, banks and other lending institutions and others in real estate. Quickly, what we call "hand-to-hand combat" was instituted and the owners along with several employees set out to hand-deliver the marketing messages to their targeted audience. The results are still coming in, but new projects were quickly retained and the income generated from the creation of the new branding scheme will far outweigh the costs.
Construction companies tend to rely on the phone ringing. However, in today's marketplace, you have to be in the eyes of the prospective customers often. And sometimes, a little luck plays in. It is our recommendation that you create a professional appearance and sometimes use good 'ole tried and true person to person selling. It works. And has always worked. Give it a try!