Project: Integrated Marketing Campaign
In An Integrated Marketing Program, Even The Smallest Details Matter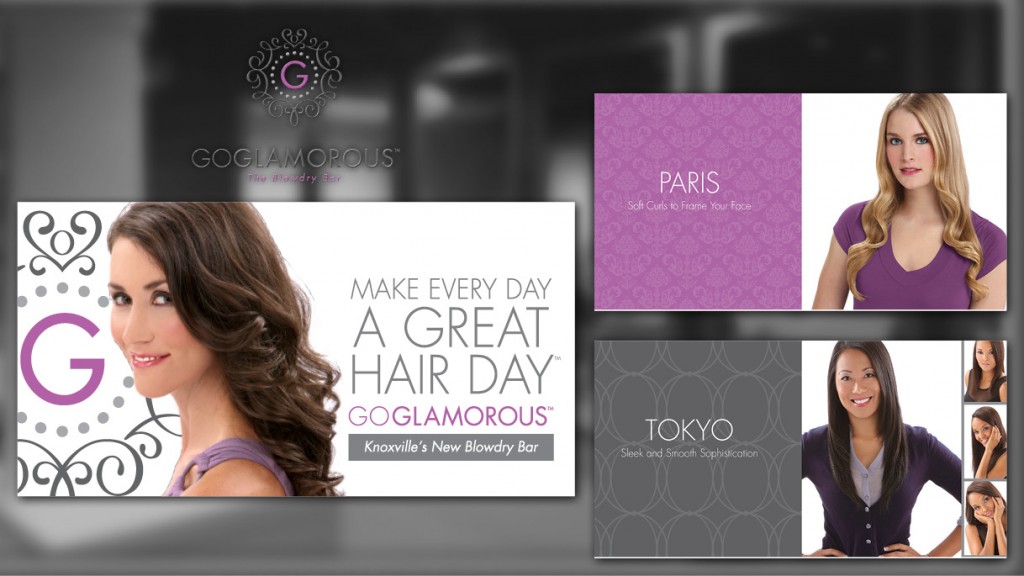 GoGlamous is a blow dry bar—it doesn't cut hair, it provides unique styling for special occasions. The concept is popular in major cities, but we were tasked with helping introduce it into Knoxville.  We began by announcing the coming business, and explaining the blow dry bar concept through public relations, pre-opening advertising, direct mail, and social media.  This integrated approach helped sell in the new business well before the owners opened the doors.
We also developed the store's tagline:  "Make Every Day A Great Hair Day."
But we didn't stop there.  We helped fashion many of the environmental materials used every day by the stylists–the look book, signage, and store design.  Everything was designed to work together to make clients feel special and pampered.  Store graphics were also designed with line expansions in mind–GoGlamorous also offers manicures and makeup.
We even helped store managers discuss with employees how to answer the phone so the brand would be reinforced with each client contact, and made sure all employees knew about the business mission so they could explain it consistently to people who weren't familiar with GoGlamorous. Because in an integrated marketing campaign, all details matter.
The launch culminated with a preview party, where local officials other salon owners were invited (GoGlamorous gets referrals from other salons, who'd rather focus the business on more profitable hair cutting), then with an aggressive media campaign to get the business off to a strong start.