Client: Drs. Campbell, Cunningham, Taylor & Haun
Project: Ophthalmology Website Development
A Website Design That Integrated All Aspects Of The Practice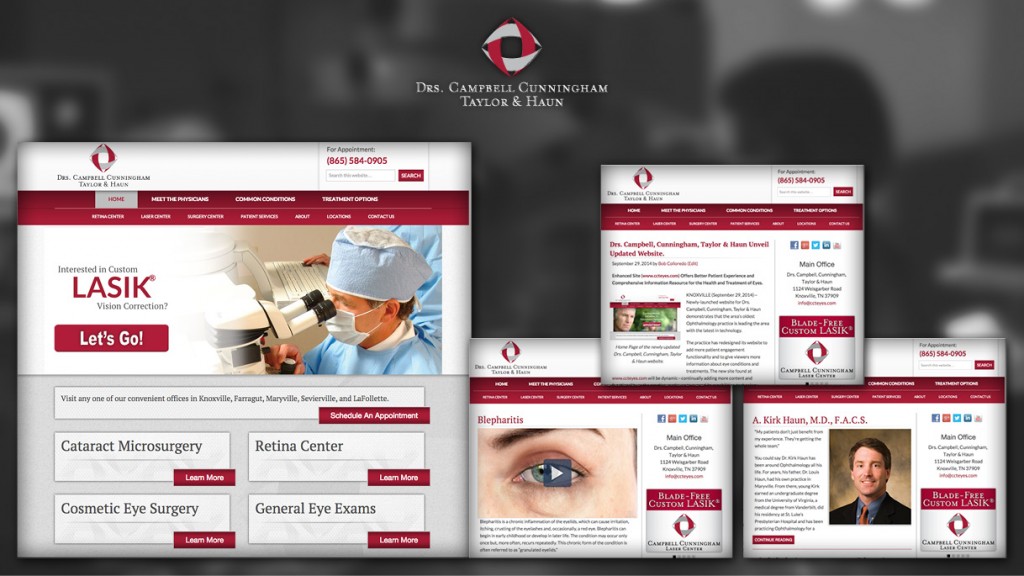 Drs. Campbell, Cunningham, Taylor & Haun is one of the oldest ophthalmology practices in East Tennessee. For generations, the practice has been known for its patient care–and its willingness to invest in new technologies to keep the firm at the top of the profession.
Colloredo & Associates was asked to help convey this message through a brand new website. Our comprehensive redesign helped CCTH accomplish several objectives to maintain its position as a premier eye care provider.
The practice was the first in its area to have a website and it quickly became evident that persons of all ages responded to the readily-available information online. So, as the practice grew and website capabilities grew, the website for the practice grew. Since this expansion occurred over a number of years, site organization wasn't optimal for viewers or for search engines.  A redesigned that integrated all aspects of the practice and new online technology was needed.
Today, the website has many features that help in patient recruitment and patient experience, including:
• A patient Portal for online management of patients' information and appointment requests.
• Educational Videos to help patients and prospective patients better understand their condition.
• Detailed information on the practice's general disease management, retina specialty, LASIK center, general surgery center, optical shop and cosmetic procedures.
• Interactive location maps complete with directions and photos of the buildings.
• Highly active Blog/News section.
• Social Sharing
• Resumes and stories of each of 9 doctors.
The new website comes complete with a total approach to social sharing, enabling it to become completely integrated with the total practice marketing efforts.